Chic Manila
What's life in the city like for a girl? That's not one story at all, and there's more than one way to live in our crazy, happy Metro Manila.
New – the Chic Manila 6-book bundle! Epub editions here: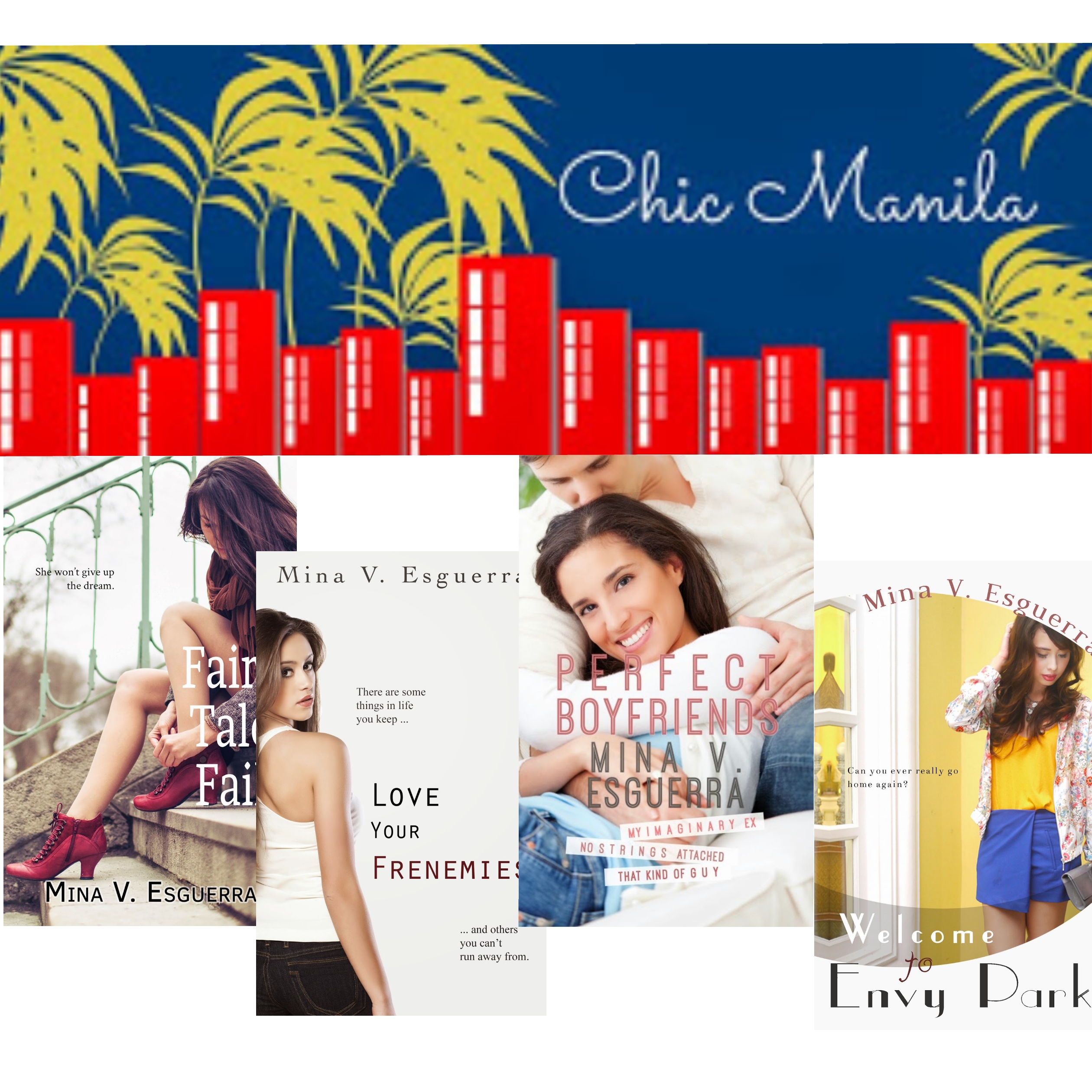 Individual titles and buy links
Ellie Manuel is a hopeless romantic, stuck in a cubicle all day. She's in her twenties and should be having more fun. But instead of doing what she really wants, like traveling wherever her Philippine passport can take her, she's hung up on the guy who dumped her for not being "ambitious enough." Someone should tell her that there are other cool guys — who probably even eat at the same office cafeteria! — who would encourage her just to be her fabulous self.
FAIRY TALE FAIL won the 2012 Filipino Readers' Choice award for Chick Lit.
Yes, Universe, Kimmy Domingo knows that you hate her. But she's a nice person, she really is — as long as you ignore the stories of people she's bullied, manipulated, and annoyed in the past. She totally gets that you've gotten back at her by having her fiance' dump her a week before their wedding. Soon after, she quit her job, hopped on a plane, and just hid from everyone who knew her.
A year later and she's back in Manila to be maid of honor at a wedding she can't miss. She's home because she's ready to start over, but she also knows that some people at that wedding were responsible for the mess her life turned out to be. The first step to recovery? Cutting off the ones who caused her troubles to begin with: her best friend and her first love.
Moira Vasquez is a doer. A planner. A get-up-and-goer. At twenty-two, she left her hometown to work in Singapore, to satisfy a need to travel as well as give her savings account a boost. Five years later and she's back in Manila, with a shiny new apartment to her name, but no job, no career, no boyfriend. She meets Ethan Lorenzo, the quiet hunk of an IT consultant on the ninth floor of her condo building, and he's a welcome distraction during this period of having absolutely nothing going on in her life.
But she has a plan – of course she does – and this is just a short layover on the way to the next country, the next job, the next big thing. Or will she be missing out on something great that's already there?
Three books by bestselling romance author Mina V. Esguerra, together in one edition for the first time. Fall in love three different ways…
Jasmine once pretended to be Zack's ex girlfriend, to help him score with another girl. They've been good friends since then, so good that his two real exes rope Jasmine into their plan to stop him from marrying someone they think is totally wrong for him. (MY IMAGINARY EX)
Carla's 29 and won't settle down and marry just any guy, no matter what her friends say. She thinks Dante is a safe bet for a non-relationship, because he's 24 and couldn't possibly want something long-term. (NO STRINGS ATTACHED)
Anton has dated a lot of women and is everyone's "delicious distraction." But he seems to have fallen hard for good girl Julie — if only she believed him. (THAT KIND OF GUY, winner of the 2013 Filipino Readers' Choice Award for Chick Lit.)
Andrea Crisostomo is no longer your Ms. Right Now, thank you very much. She's had enough of guys who like her "free spirit" but then break up with her before things get serious. One guy in particular screwed her over so much that she now hates weddings, but she has to suck it up to attend her sister Julie's big day.
Damon Esquibel enjoys the slow and steady chase, and it looks like his two-year pursuit of Geraldine is about to pay off. He's at his friend Anton's destination wedding only because of her. But then he meets the sister of the bride, who doesn't seem to want to be there, and it's enough to question his plans for the evening – and the rest of the weekend.
Buy link: buqo (for readers 18 and up)
A beach cove, a hot summer weekend…SOLA MUSICA is where everyone's going, to enjoy the best new music from all over. Bestselling Filipino YA/chick lit authors Mina V. Esguerra, Marla Miniano, Chinggay Labrador, and Ines Bautista-Yao each tell a story about this festival: the music, the people, the hearts that will soar (or break).
Jack is the go-to behind-the-scenes guy for electronica group, Box Trap, and finds himself inexplicably drawn to the lead singer he's tasked to work with. (SPECTATORS, Chinggay Labrador)
Georgia wants to finally talk to Ken about this "thing" that's between them, but he seems intent on avoiding it, even if they're spending a weekend at a music festival together. (GEORGIA LOST AND FOUND, Mina V. Esguerra)
Gem has the chance to make her dreams come true and perform at Sola Musica, with one crippling problem: all her talent left her six years ago when a boy kissed her. (A CAPTURED DREAM, Ines Bautista-Yao)
Natalie is about to watch her favorite band in the world, with a guy she's crazy about—if only she can get through forced family bonding with her grandmother, her little brother, and her grandmother's boyfriend. (BREAK, Marla Miniano)
Jane likes to pretend to be other people. Don't trust her with your money, your things, or your heart. 
In the Scambitious series, we follow Jane, Gabriel, Margaux, Alexander, and Wendy as they mingle among Manila's high society…and steal things from them. These are short stories released whenever I'm in between writing projects. It also happens to be my most favorite thing to write.
Young and Scambitious #1: Amazon  Smashwords iTunes Barnes & Noble Kobo buqo
Properly Scandalous (Scambitious #2): Amazon  Smashwords iTunes Barnes & Noble Kobo buqo
Shiny and Shameless (Scambitious #3): Amazon  Smashwords iTunes Barnes & Noble Kobo buqo
Greedy and Gullible (Scambitious #4): Amazon Smashwords iTunes Barnes & Noble Kobo buqo